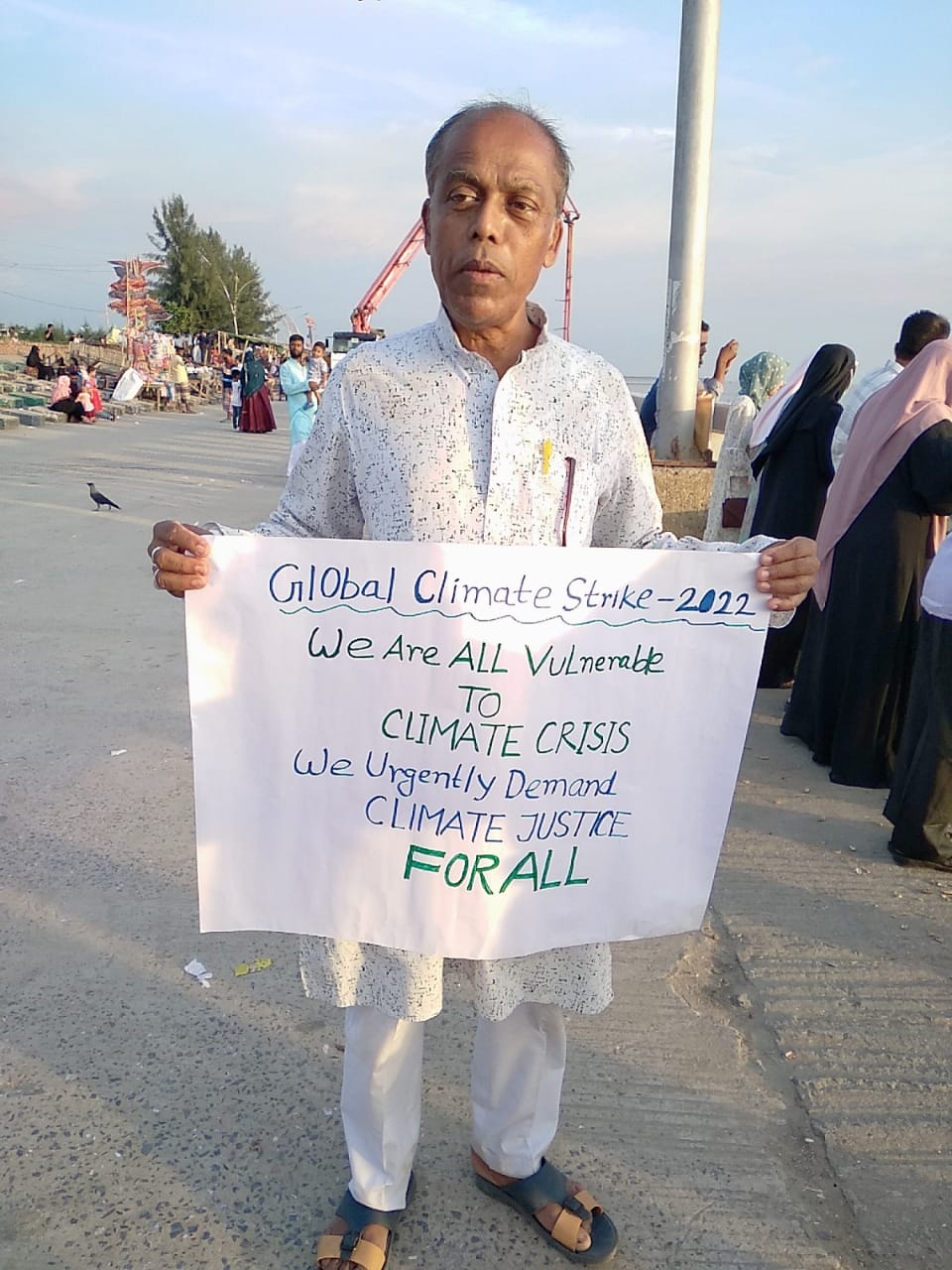 The first global climate strike took place 3 years ago in 150 countries across the globe. It was about demanding justice by people who said NO to ALL forms of injustice. Climate issues is neither an environmental issue nor a political issue; it is a social or economic issue, either. It is a broad terminology, which gives us a chance to remind ourselves about our interrelatedness. By reflecting on how all of these seemingly separate issues are deeply connected and influence each other, we come to realize that we need to be in a dialogue with one another rather than trying to tackle issues individually in a separate and isolated manner.
Concerning with the worse situations, we urgently demand climate justice movements in every corner of our locations and observed the GLOBAL CLIMATE STRIKE 2022 in Patenga, Chattogram, Bangladesh with local climate vulnerable people and visitors in the beach area of Bay of Bangle to raise and add their voices. In the movement it demanded urgent Climate Justice for all and urged to save People and Planet from the man-made climate induced crises. A human chain with slogans ' People not profit, Planet over profit, settle the climate refugees, pay up for loss and damage and keep our planet a livable place for all living beings not destroying nonliving nature ' and many others.
It also highlighted the climate injured vulnerabilities of Bangladeshi people as it's low-lying topography, high population density, poverty and exposure to various hazards, such as flooding, storms, rising heat waves, sea levels, water logging, river erosion, or communicable diseases caused the world's seventh most climate vulnerable country. The important aspect of tackling climate change is addressing and minimizing loss and damage by reducing carbon emission, which is a growing problem of every country. The Climate Strike movement is organised by Atisha Dipankar Peace Trust Bangladesh with support from Interreligious Climate and Ecology (ICE) Network and ADPT Bangladesh Foundation.